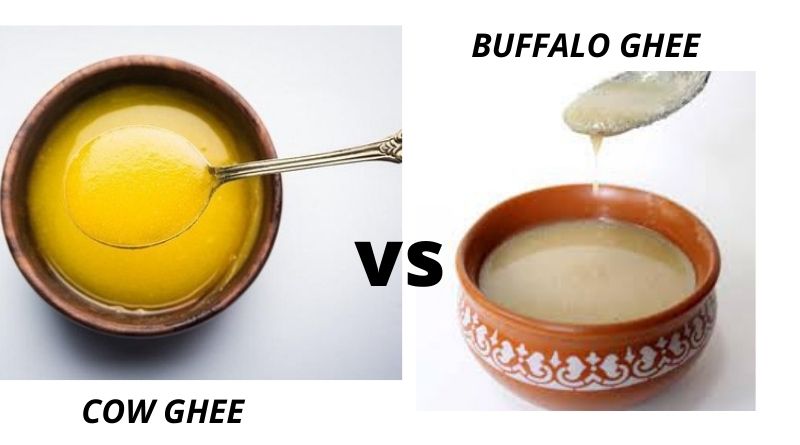 Clarified butter is also known as ghee is a very popular milk product, which is extensively used for making sweets and is an integral part of many religious functions in India. It is offered to deities during various rituals as it is considered to be sacred. It is also the main ingredient in various cuisines. India is currently the largest producer of cow milk and buffalo milk. It is a global leader in the production and consumption of ghee. Many households consume ghee on a daily basis but are unaware of the difference between ghee made from cow's milk and ghee made from buffalo milk. 
Here are a few criteria based on which you can choose between the two types of ghee available. 
Effect on Digestive health:
Cow ghee is considered to be much more beneficial than buffalo ghee for improving digestive health. Consuming a glass of warm milk along with one spoon of ghee before bed is very beneficial.
Nutritional content:
Buffalo ghee is a good source of phosphorus, magnesium, and calcium whereas cow ghee contains lots of proteins, minerals, vitamins, and calcium.
Benefits for children:
Cow ghee is more beneficial for children when compared with buffalo ghee as it helps in reducing obesity in children and also prevents diseases such as cardiovascular or thyroid.
Colour of ghee:
Pure cow ghee which is also known as desi cow ghee is yellow in colour whereas buffalo ghee is white in colour.
Overall Health Benefits:
Experts suggest the inclusion of ghee in a well-balanced healthy diet, but the presence of too much saturated fats and cholesterol can be harmful to overall health. Ghee made from cow's milk has higher cholesterol and lower fat as compared to buffalo ghee.
Quantity of ghee extracted:
The amount of ghee extracted from the cream of cow's milk is much less as compared to the cream of buffalo milk.
Preservation: 
Cow ghee cannot be preserved for a long duration due to less fat content, whereas buffalo ghee can be preserved for a longer duration due to the presence of more fat content.
Ayurvedic viewpoint: 
Ayurveda and ancient medicine suggest that cow ghee has many medicinal properties whereas buffalo ghee contains no such additional properties.
Specific health benefits: 
Ghee made from buffalo's milk is great for those who wish to gain some healthy weight or improve their cardiovascular muscle activity. It is also good for maintaining bone health. Ghee made from cow's milk is good for getting essential nutrients, for losing weight as it contains fewer calories, and for reducing obesity in children and adults. 
Buffalo ghee as well as cow's ghee can be used as a part of a well-balanced healthy diet. Choosing either of these depends upon personal preference and requirements. 
Patankar Farm Products brings to you premium quality cow ghee and buffalo ghee. Make sure you include any one of these as a part of your well-balanced diet.