As we move further with time, cuisine changes with every decade, where some recipes are modified, and some get lost with time.  There are lots of mouth-watering local dishes that haven't been a part of our diet for a long time.
There are several recipes that have slipped from our kitchen .
With time, we are drawn more towards calorie-based diets and ready-to-eat meals.
Indian food is not only influenced by religion, cultural choices and traditions. India is not just culturally rich but rich in food, spices and flavors too.
Most Indians have an emotional attachment with the kitchen, and owing to which, traditional recipes are passed on through legacy by just word of mouth, which makes food a valued inheritance.
Let us find our roots back.
My upcoming book  The Lost Recipes will take us back to our grandmother's kitchen. As time goes by, the recipes get lost in words. Many of the recipes are usually transferred from one generation to another by word of mouth and are never written down. 
In this context we will go back to the old and lost recipes from the ancestral/ grandmother's kitchens and bring them back to life and give them a place to stay forever.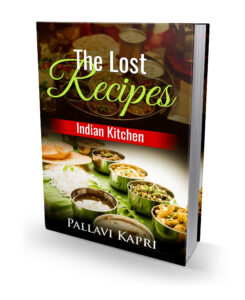 Traditional Bihari Delicacy - Dal Pitha
Dal Pitha is popular rice flour dumplings.There are different varieties of Pithas. Bihari Dal Pitha is prepared using fresh rice flour and spicy masala lentil filling.
Dal Pitha is served with Tomato chutney and Aloo Baingan ki Sabzi.
Parwal ki Mithai is very famous dessert of Bihari Cuisine.  It can be easily made at home and tastes delicious.The inner pulp of the parwal is scooped out, boiled, dipped in syrup and stuffed with khoya / Mawa and garnished with nuts.
Stay tuned for many more such delicious recipes.